A successful outcome from a somewhat challenging brief
SCOPE OF WORK
• Brand Identity
• Marketing Material
• Signage
• Website
---
Previous identity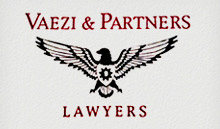 ---
Vaezi & Partners is a boutique law firm offering services in a variety of areas, in particular civil and criminal litigation. The firm has been successfully practising for over 25 years and are now in a position to grow the firm for the next 25. In early 2010 they approached deMasijones looking to develop a brand strategy to help grow the firm. After a review it was agreed that a new brand image and marketing materials would support such a transition and their current internal changes.
As with all things that sound straight forward, the project then became more interesting/challenging when CEO Dr Vaezi put forward his list of logo mandatories that hadto remain and be considered within the new logo. The mandatories were that the final logo had to still be reminiscent of the eagle icon that had been the company image for over 20 years, and that the logo must also feature the number 9, for spiritual reasons.
Although we believe the eagle wing element is evident within the final identity, one aspect is not so obvious and that is the logo is made up of 9 pieces exactly, something that made Dr Vaezi smile. All in all a very successful project and we are continuing to work with the Vaezi team ongoing.